Home » Know Your Energy Score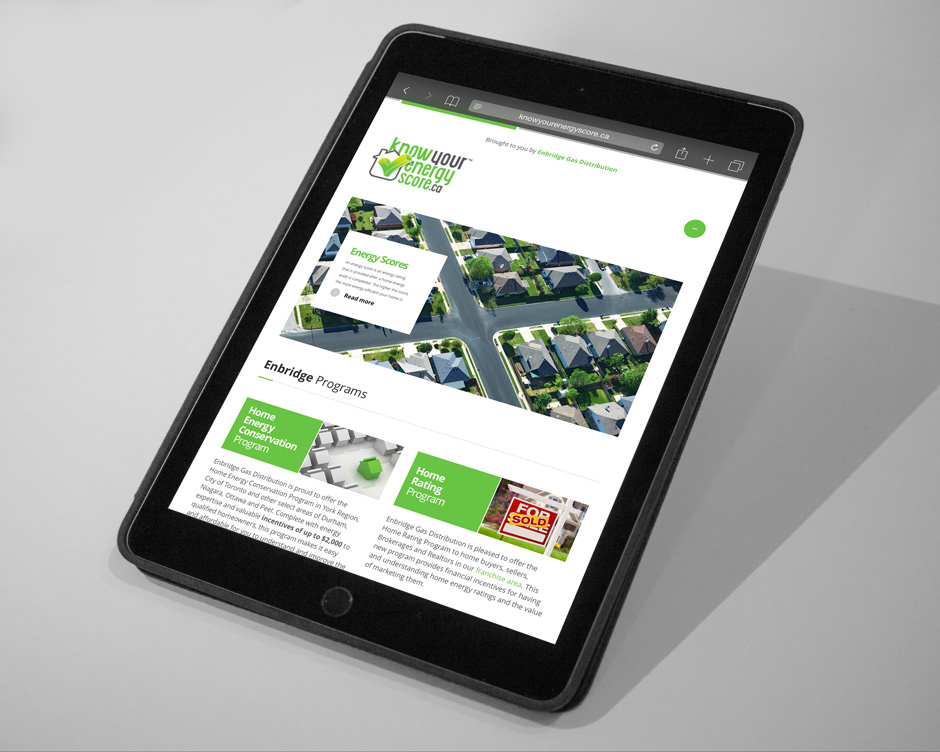 Challenge: Enbridge needed a hard-working website that could easily accomplish multiple goals: educate consumers on home energy efficiency and home energy ratings, plus encourage participation in one of two programs – the Home Energy Conservation Program (for homeowners) and the Home Energy Rating Program (for homebuyers, home sellers, realtors and brokerages). With two different programs targeting different groups of people, we definitely had to point visitors in the right direction upon arrival to the site. And while both programs offer valuable incentives, they also require multiple steps in order to redeem them.
Solution: When you have a lot to communicate, clarity is key. So we created a site with a clean design and intuitive navigation to make everything easy to find and understand. We also made sure the home page worked as hard as it could – with snippets of information that could be quickly absorbed before clicking on anything.
Knowing that many visitors wouldn't be familiar with what energy scores are, we provided a quick explanation right on the home page with the option to click through to learn more. To help visitors quickly determine which of the 2 programs would suit their needs, we featured a visual of a "For Sale/Sold" sign with the Home Rating Program, and a stylized "green home" graphic for the Community Energy Conservation Program, along with a brief explanation for each. Upon clicking through, visitors can easily find the information they need, with all program details and steps clearly explained and fully assessable. To encourage even further engagement with the site, we also included "News & Articles" and "Case Studies" sections.
While the site and campaign are still active in market, results have already exceeded Enbridge's targets for program registration!
Enbridge Gas Distribution